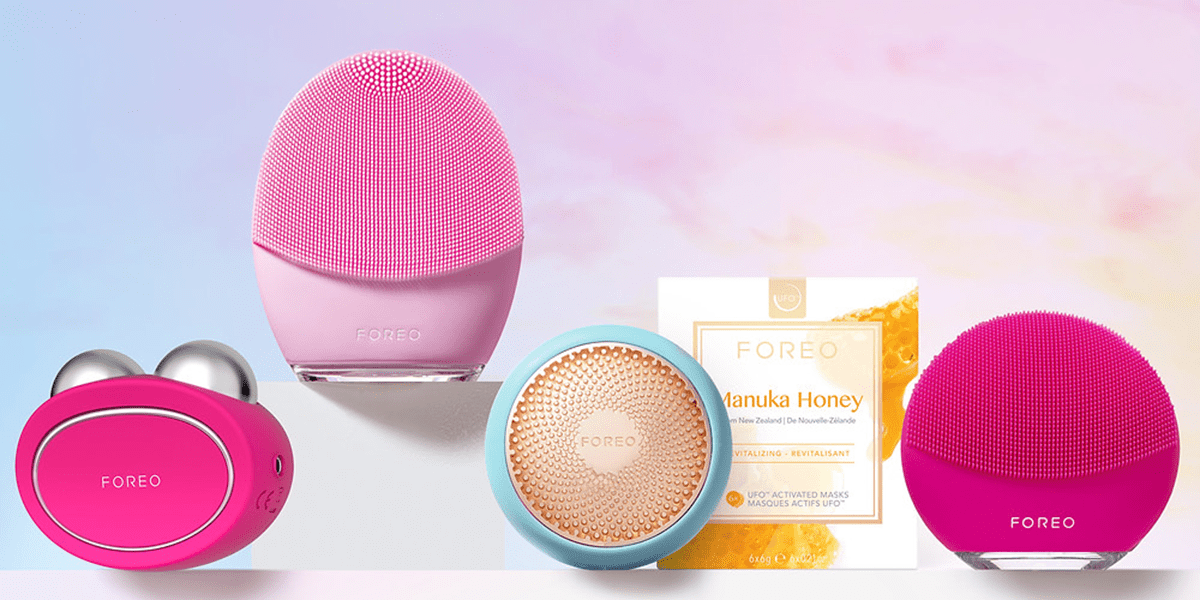 INTRODUCTION
A very fast grower
FOREO is a wildly creative Swedish beauty-tech brand created to provide every beauty lover in the world with products that actually work. In only six years FOREO has reached some serious numbers – their team grew from two to over 3000 employees worldwide and they shipped more than 20 million FOREO products. Their LUNA devices won over the market instantly and became a must have premium facial care product. They decided that their customers deserved even more and that Salesforce was the way to provide that – we were happy to help them get on the right track!
CHALLENGE
All over the place
A CRM project has been planned for a couple of years – multiple solutions existed that were in use but, but provided a manually intensive workload and a fractured customer journey.
Customer experience was far from what they wanted to offer their customers. A fractured customer experience was the result of siloed systems and that fact that the business had difficulty associating all transactions and communications with individual customers. A lot of the internal processes were done manually and therefore cost them a big amount of time and money. The ability to segment their customer base was fairly limited, but also complex. Existing technology stack was complex – they used five different and detached systems.
For example, when answering a customer's inquiries, Customer Care agents had to use several different systems to help them, resulting in a higher workload for agents, slower response times and in the end, a longer onboarding process for new employees.
Marketing created personalized campaigns, but they were too time consuming, so it took several days from the initial idea to sending the final campaign to its customers. The key is quality, but also speed, especially during the most intense periods like Black Friday and Cyber Monday.
GOAL
FOREO Customer 360
With a vision to become a true customer centric company, driving customer lifetime value and customer experience, FOREO has engaged multiple vendors to identify the best possible solution that would help the business achieve its strategic vision – FOREO Customer 360.
Their main goal was simple – to build their brand around the customer. FOREO wanted a customer experience strategy so strong and sustainable that they don't depend on new acquisitions and can rely if needed only on the existing customer base.
They needed an integrated system which shows all the records of interaction with customers and automates a great amount of everyday tasks. They wouldn't settle for less than their two main demands – the 360 view of their customer and a flawless journey for every client.
PROCESS
Once more, with feeling
A CRM was planned for years and in 2019, FOREO decided to go ahead with an implementation project with a different CRM vendor. However, that project came to a standstill because FOREO's requirements weren't fully met.
One year later, CRM had once again become a strategic project and we are glad that HSM was their ultimate choice, as we were more than ready to sink our teeth into this CRM project, focused on FOREO B2C engagement.
This project, one of the most complex ones that we worked on, required great involvement from not only great experts from FOREO and HSM consultants, but also Salesforce and Merkle DACH, our partners in the project, who played an extremely important role during implementation and analysis of customer needs. Essential for the success of the project was quality preparation – almost a year of continuous cooperation and in-depth analysis allowed the implementation of the solution to be completed in just a few months, within budget and deadlines, which resulted in the system providing very tangible results quite quickly.
FOREO decided to go "all-in" with Salesforce – using Salesforce Marketing Cloud for all future marketing interactions and Salesforce Service Cloud for all future Customer Care processes.
RESULTS
Everything in its right place
As we mentioned, FOREO's existing technology stack was complex, with different systems for every step of the customer journey. All of the existing solutions (for digital marketing, service tickets – chat, phone and email support) were among leading solutions on the market but did not work well together so great.
What FOREO, Merkle DACH and HSM managed to do with Salesforce is to finally bring everything together and now they can finally provide their employees and customers with a frictionless experience – FOREO Customer 360 experience!
Customer experience and customer satisfaction scores have improved – even if customers have no idea what happens in the background, every single piece of information about a certain customer is now in one place which significantly streamlines processes in every department – sales, marketing and service.
Customer lifetime value, retention & acquisition have also increased exponentially, thanks to the fact that sales and marketing campaigns can now be done in a smarter and more structured way. Customer journeys are now more seamless and nurturing the existing customer base is a lot simpler, along with new customers being easier to identify and acquire.
Salesforce has brought them:
13%
more registered customers
28%
increase in online revenue
22%
open rate in email campaigns
Ready to take your company to the next level?
Great! Leave us a note and we will get back to you, fast