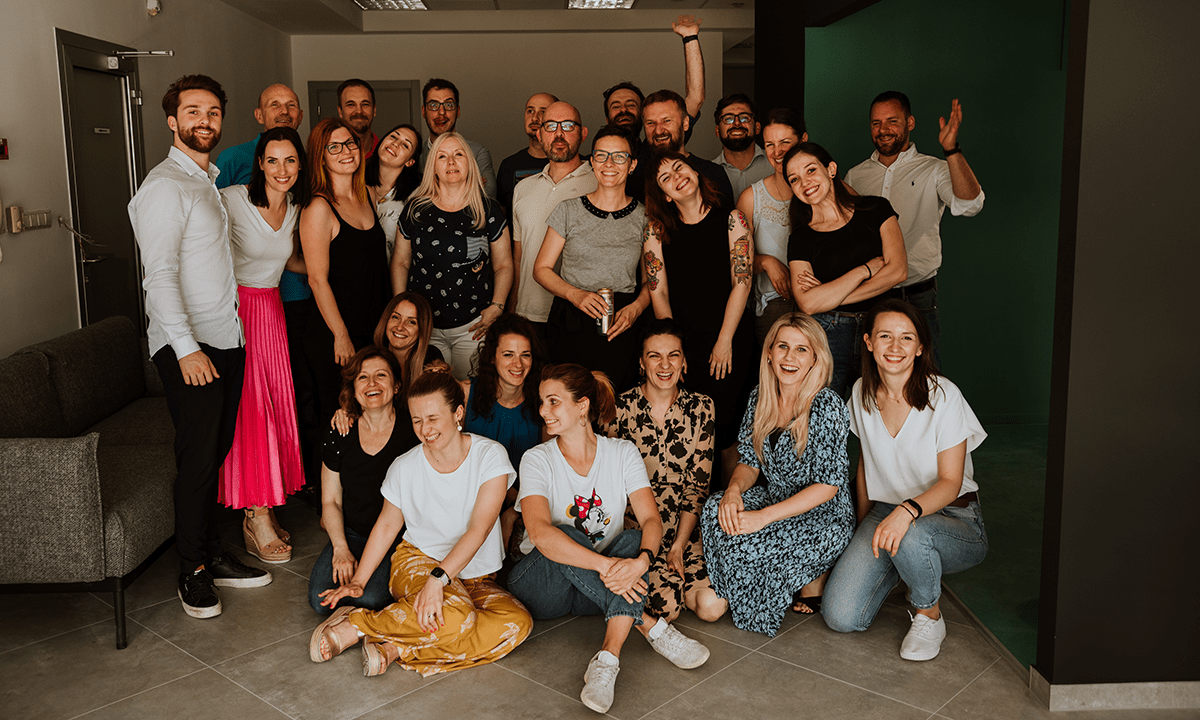 Even though we have already well into the new year, we still like to reminisce on the good things from the last one. 
A couple of years of big changes are already behind us. As a continuation of the changes in our business organization and internal processes, in 2021 we underwent a major rebranding, changed our visual identity and launched a whole new website. In the last year we continued to move in the spirit of these changes. The biggest change that definitely affected every employee was the change of location. As much as we all loved our downtown office that made us feel right at home, we also felt like we had outgrown it – both in therms of numbers and business. We needed a larger, more comfortable space in which we would feel good – luckily, one just like that was waiting for us in Zagreb's largest business zone.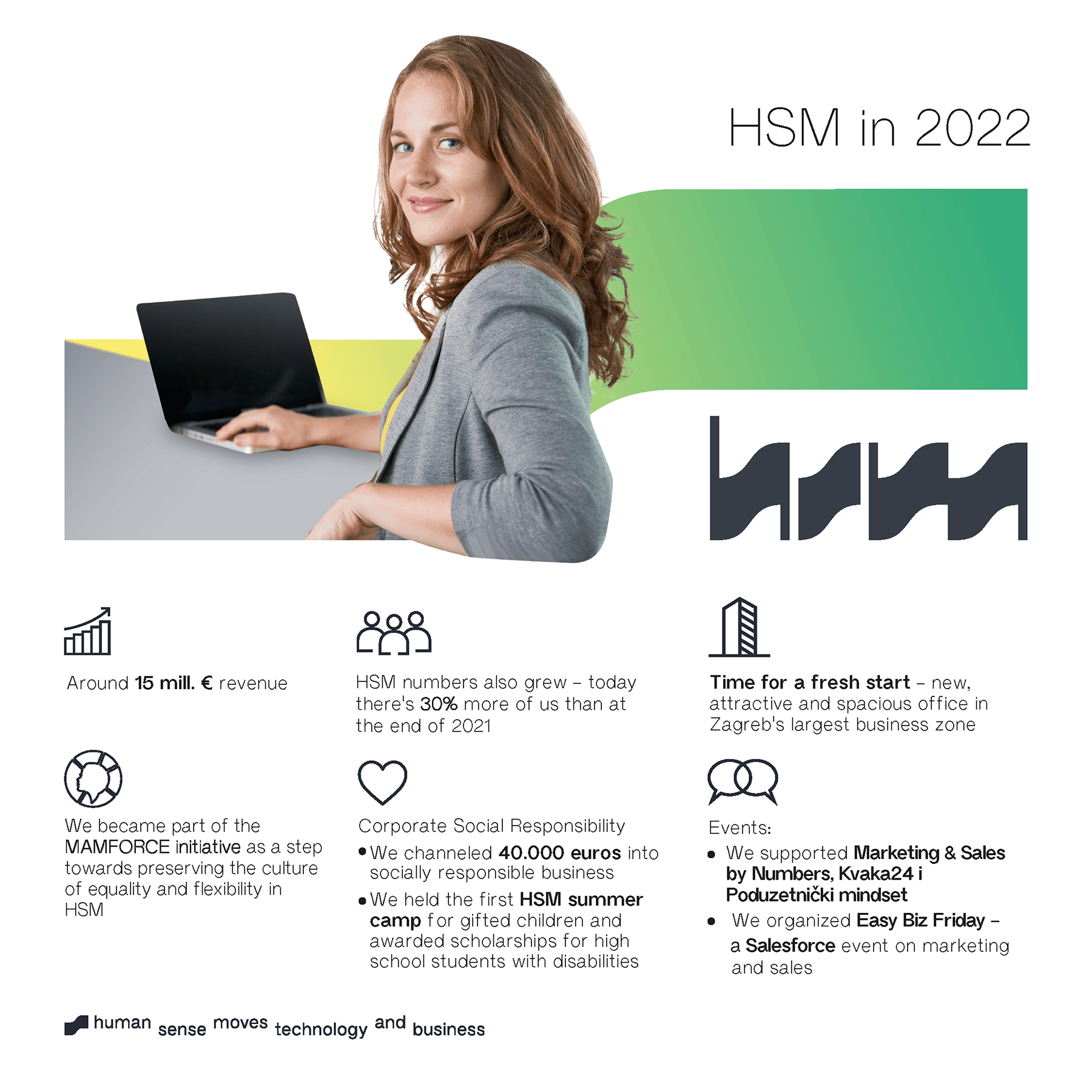 Salesforce CRM Consulting
Along with the new office came new colleagues to support our existing and new Salesforce clients. This year's growth was based on successful long-term cooperation projects for about 20 companies. An ideal example of such a project is Skladišna logistika, which received its own Salesforce Field Service app for field service reps. The knowledge we gained from an international project was transferred to the first regional implementation of this solution for companies with less than 100 employees.
We're glad that the satisfaction with Salesforce solutions continues to spread in our market. In 2022, we started great projects with four new clients: Intis, MB Frigo, Franck Snogoo and Lider Media.
In addition, we had the opportunity to participate as a partner in the organization of several conferences such as Marketing & Sales by Numbers, Kvaka24 and Poduzetnički mindset. What makes us beyond happy is that after a couple of years on online events, we finally organized our own conference again! In the relaxed atmosphere of The Garden Brewery, we gathered marketing and sales experts to share their experiences with us at the Easy Biz Friday event.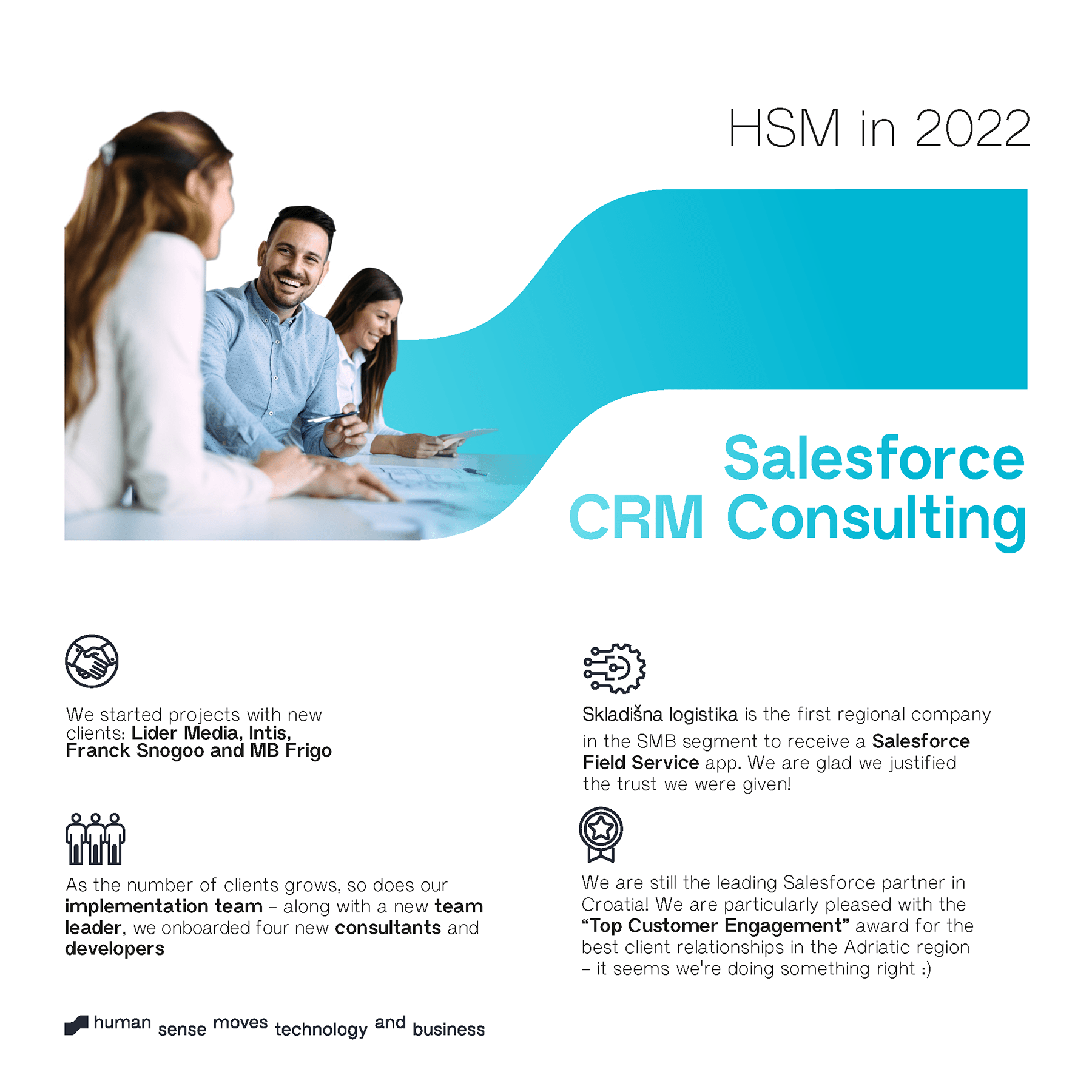 Adobe Distribution
Although the work of our software distribution department was greatly affected by the situation in Ukraine, which makes up a large part of our market, we are glad that despite this we have maintained the status of the leading Adobe distributor in the Adriatic and CIS region while expanding distribution to three new countries – Armenia, Georgia and Moldova. Good results secured us a stable place in the Adobe Education Elite program, which gathers only a few carefully selected Adobe partners from the EMEA region, who proactively work to develop and increase the education market.
A big innovation happened with the implementation of Adobe Marketplace – a platform, which we set up together with the Maven Mule team, and which enabled our Adobe partners to do their daily work faster, easier and simpler.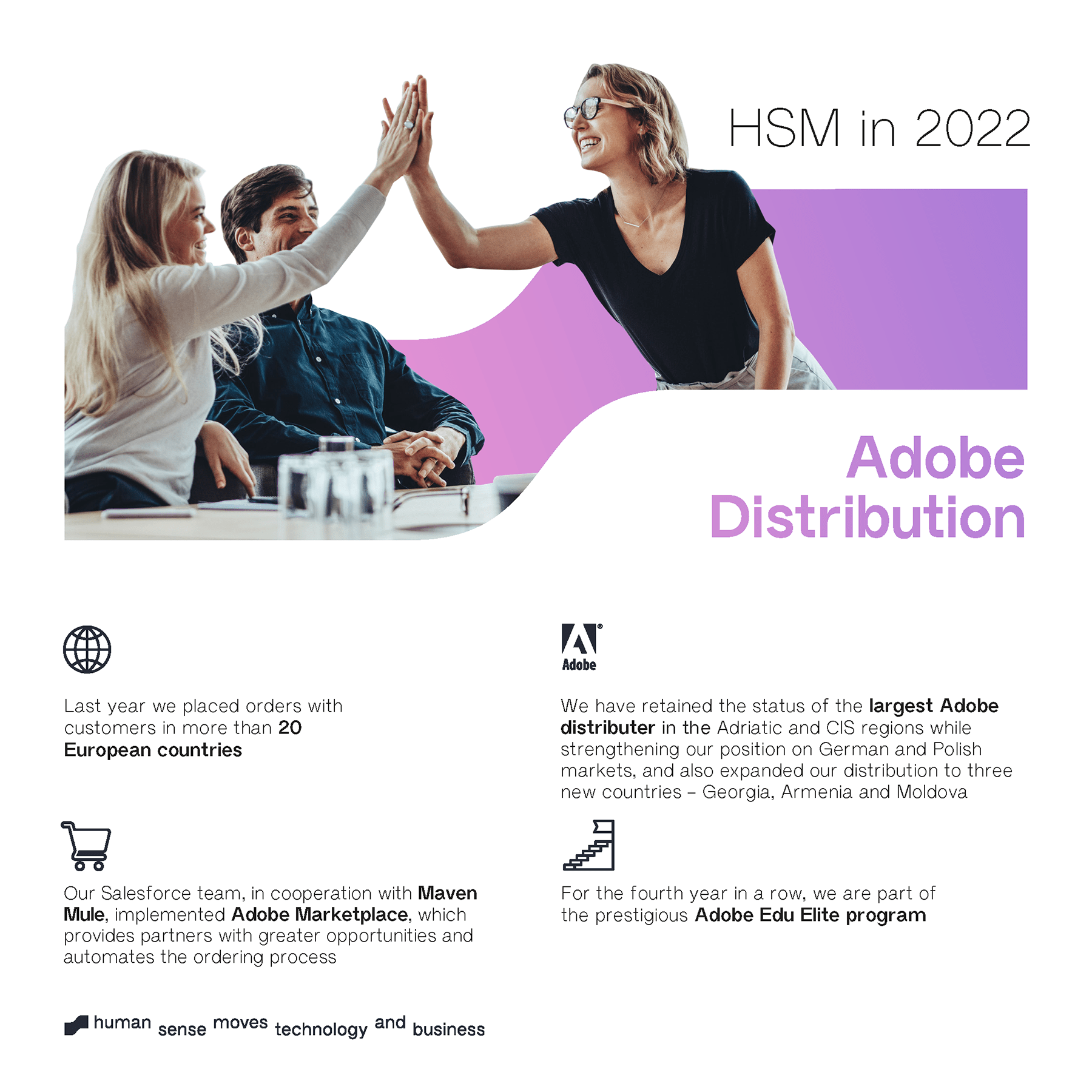 Interactive Education & Office Collaboration
After a two-year break due to the pandemic, our team for interactive education solutions returned last year to participate in gatherings of principals in several cities, where they presented innovative solutions for the classroom from our offer. We are especially pleased they attended these in a strengthened edition, because a colleague with many years of experience joined the sales team, who is an invaluable addition to the team. Together, they continue with successful projects of equipping educational institutions and office spaces with multimedia solutions.
Their team also took over the sale and optimization of licenses for office collaboration – Google Workspace. And we can say that they are doing it quite successfully because they ended last year with 20% revenue growth!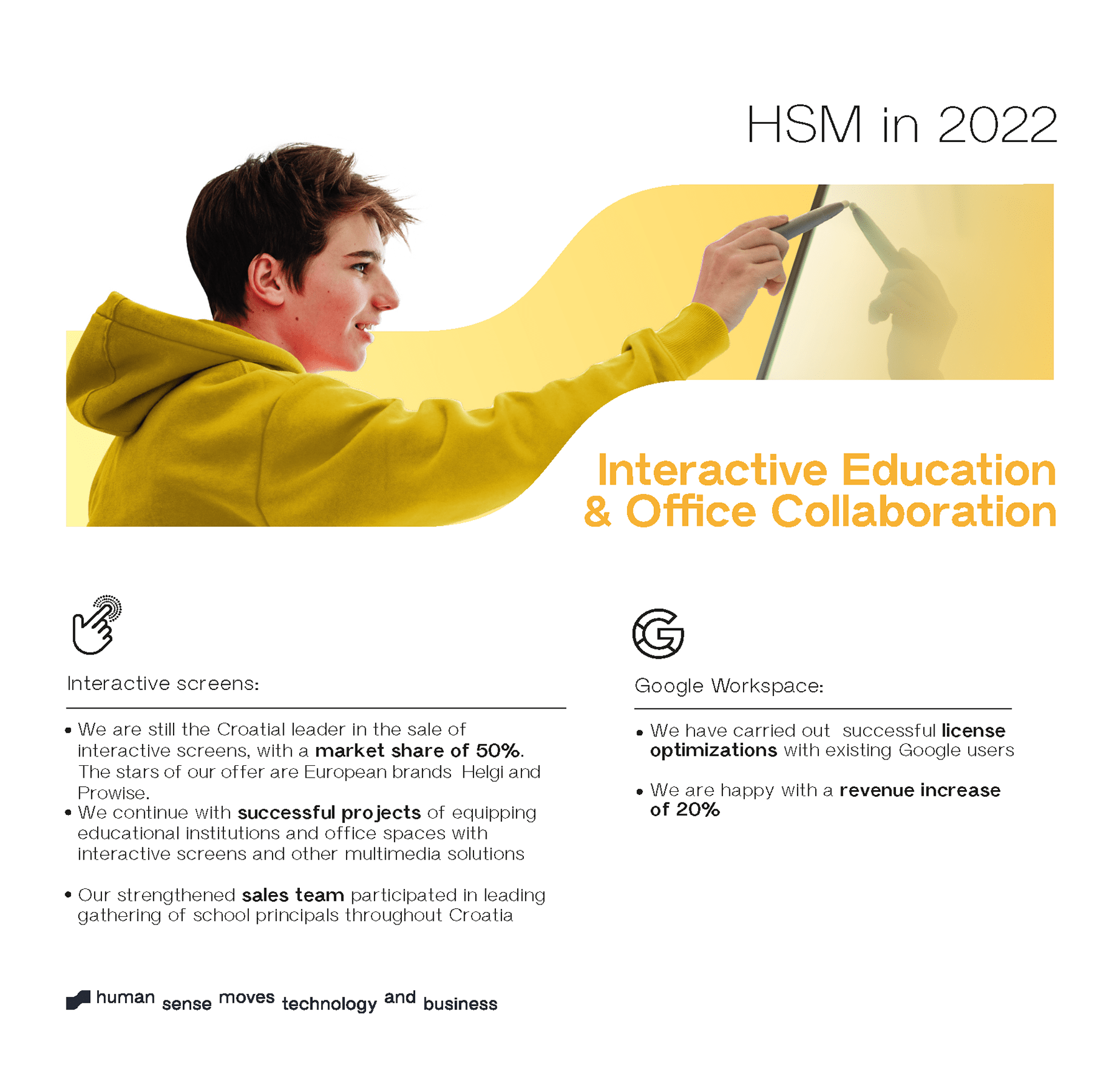 Corporate social responsibility
There are also projects that we implement at the level of entire HSM, of which we are particularly proud. One such is definitely the HSM summer camp for gifted children that we organized last summer on Sljeme. About twenty elementary school children aged from third to fifth grade enjoyed excellent lectures and interesting workshops on the topic of science and technology for five days at the Mala Hunjka mountain lodge. They learned about meteorology, 3D drawing, IoT and drones with Nikola Vikić-Topić, Bojan Branisavljević, Robert Ljubek and Zvonimir Anić. We were helped in the organization by the wonderful teams from Komunikacijski laboratorij and associations Dar and Vjetar u leđa.
In addition, we are glad to have become part of the MAMFORCE project in the desire to make HSM an even more stimulating environment that supports the development of a culture of flexibility and equality. It is important for us to support employees in harmonizing family and business life, and initiatives like this are an excellent next step in achieving that goal.
In the end...
All in all, we entered 2023 with very good results and changes that we believe will further help us to provide our clients with quality technological and business changes, and to be an even nicer place for HSMs to grow together!